By now, if you've made it to this blog, you probably already know a lot about Menorca. For example, you probably know that horses are venerated on the island, among many other things, because the equines are the protagonists of the famous jaleo fiesta shows (they say that in Menorca there are more horses per inhabitant than anywhere else in Spain). You may also be aware that the island's main industry, after tourism, is the manufacture of cheese and footwear. And you probably know a lot more…
However, I'm sure you didn't know that Menorca is an island of artists. Surprisingly, a large number of artists live on the island, and I'm not just referring to famous or professional artists, who are also many, but to people who have a great passion for art and who habitually practice some artistic discipline.
Among the thousands of artists who live on the island are painters, sculptors, photographers, film directors, comic artists, designers, performance artists, singers, musicians, etc., etc., etc.
I don't know if there are any statistics on the number of artists residing on the island, but I'm sure they number in the thousands. A surprising phenomenon if we take into account that the permanent resident population on the island is only about 90,000 inhabitants.
Often, when clients contact me to help them find a house in Menorca, they confess in confidence that they have a great liking for painting, sculpture, writing, etc. In fact, many are very successful professionals who want to put the brakes on their hectic lives and who see moving to the island as an opportunity to devote more time to what they really want: to create art.
A striking case is that of a client who has one of the largest fortunes in the country and maintains a parallel artistic career under a pseudonym (he does not want his paintings bought for who he is, but for the quality of his work).
In my old house in the countryside where I lived for 12 years, there were only four neighbouring houses and in three lived very active artists.
And although many of these artists are foreigners or from the peninsular who have found refuge on the island, there are also many Menorcans who paint, write, perform in the theatre, sing opera, play the piano, etc.
Some people will sarcastically tell you that so many people have artistic hobbies in Menorca because in winter there is nothing to do and they get bored, but I'll consider another more plausible theory. I think that the tranquillity we enjoy on the island, together with an environment of extreme beauty, invite us to promote creativity. And this atmosphere is the perfect breeding ground that turns Menorca into a powerful magnet for creativity.
And surely this magnet will have something to do with the fact that in recent years some of the most important international figures in the art world have settled in Menorca, for example the firm Hauser & Wirth is going to inaugurate an international art gallery on Isla del Rey next year which, by the way, we at Ses Moreres Estate Agency are very proud to have helped them find their wonderful estate by the sea. The Cayón art gallery has already been installed on the island for two seasons and several renowned gallery owners have contacted our agency for their interest in settling on the island.
The list of known artists who have fixed their second or first residence on the island is very long and includes names that would cause surprise, but I am not going to be the one to break the valuable anonymity, one of the main values that celebrities appreciate about our island.
And as it could not be otherwise, at home there are four of us and three of us are artists!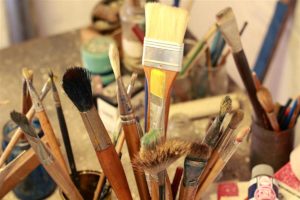 If you are an artist I think you have found your island, and possibly your home in Menorca is here.