Living in Menorca is the aspiration of many people, but have you ever wondered how much it costs to live in Menorca compared to other parts of the country?
The island of Menorca has experienced an important tourist boom in recent years and has become fashionable in the media. Does this mean that prices have risen and that the island is only within the reach of a few privileged people?holdbarhet nespresso kapsler
vinglas boda nova
qatar airways handgepäck gewicht
חוק רמקולים תחת כיפת השמיים
כורסא אגורה
nike tech fleece tapered joggers in blue
dámské jarni kotníkové boty tamaris
best apple watch bands for women
dežna obleka za otroke
spodnje hlače moške
So that you can answer for yourselves, we give you some data which can help you to compare.
The price of renting a flat in Menorca is around 700/800€ per month on average, but you need to bear in mind that the supply of houses to rent all year round is very scarce.
Drinking a latte in Mahón costs: 1,50€, a natural orange juice: 4€ and a croissant: 1,50€.
To make purchases, both in Mahon and Ciutadella, you have a Mercadona, Lidl, etc. so prices are the same as in the peninsula. For example, the price of a 6-litre bottle of water: €1.96, a loaf of bread: €1.00, a pack of 6 eggs: €1.14 and a litre of milk: €0.85.
You can find a menu in a normal restaurant for 12,00€, but if you are looking for something a little better, you can go up to 25€.
The cost of water in Menorca can vary considerably between municipalities (Spanish article).
The cost of electricity is the same throughout the country.
A 12,5Kg bottle of butane gas: 12,77€.
A litre of heating oil (fluctuates depending on the time of year): 1,00€.
A Taxi from the airport to Mahón: 15€, from the airport to Ciutadella: 58€ and from Mahón to Ciutadella: 73€.
A bus from Mahón to Ciutadella: 5,10€ (here you have all the bus fares in Menorca).
The parking meters in Mahón are charged by zone: Zone 1: 0.10€ (12 minutes), Zone 2: 0.20 (12 minutes).
A plane ticket from Menorca to Barcelona (applying the residents' discount) you can get for about 30€ and to Madrid for about 50€ (on long weekends and over holiday dates these prices rise significantly).
Joining a gym averages: 40€ per month.
Renting a tennis court: 5€/hour.
Just a decade ago living in Menorca was notably more expensive than in many parts of Spain, especially as far as the shopping basket was concerned. However, since the generalization of internet shopping, coupled with the opening of large supermarkets on the island, it can be said that in Menorca the cost of living is very similar to that of other Spanish provinces.
The conclusion we draw is that when it comes to services and basic necessities, Menorca's prices are not more expensive, but when we need more specific services such as signing up for sports activities or taking classes in anything, things become more expensive (with the exception of the equestrian sector, which in Menorca can be practiced for a derisory cost compared to any Spanish city).
And finally, it is said that in Menorca people save a lot, because there are not many places to spend money, mainly because the Menorcan practices a very austere lifestyle. Also in Menorca people have many hobbies and practice a lot of sport (hiking the famous Cami de Cavalls is a revered activity).
Well, who knew that living in such an exclusive paradise as Menorca would be so affordable!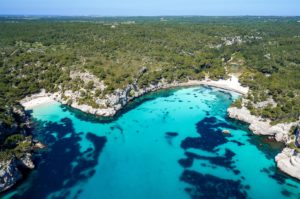 And if after reading this article you have already decided to live in Menorca, we leave you a selection of beautiful country houses for sale.